Hitch House
We Sell Kuat, Thule & Yakima Hitch Mounted Bike Racks
Hitch House isn't just a trailer hitch company. We also offer bike racks. We carry Kuat, Thule and Yakima brand racks. These brands are known to be the top in the industry. Ready to start riding now? Check out our incredible Hitch & Bike Rack Package Special! Buy your trailer hitch and an in-stock bike rack and you get free bike rack assembly, installation and demonstration, a $50 value. We can install both your trailer hitch and your bike rack while you wait!
Yakima Bike Racks
All in one stop!
Yakima Backroad and On Ramp
Never put a bike on your roof again.
No need to worry about getting chain grease on the inside of your car.
Never worry about how secure the load is on the roof with a Yakima hitch rack
No more damaging and scratching your car's paint finish.
With a mounted trailer hitch, the Yakima hitch mounted racks are the perfect option. The bike rack shaft slides easily into the hitch. Yakima bike racks come with a secure connector, while some include a lock, others can be upgraded to a locking connector. Mounting your bike on the rack for a riding trip is super simple. The rack design allows for one person to easily connect the bike to the rack and quickly disconnect it when you are ready to ride. Some rack models offer a security cable, designed to secure the bike to the rack. The Yakima bike lock system is one of the best in the industry. Installed while you wait, and you're done! Just call ahead and let us know you are coming!
Additional information about bike racks:
Options to mount by bike frame or tray style for carbon fiber bikes.
Many bike racks are adaptable to 1-1/4 or 2 inch hitches.
We assemble, install and demonstrate all the features ($50 value) with a purchased hitch installation.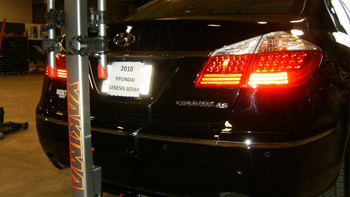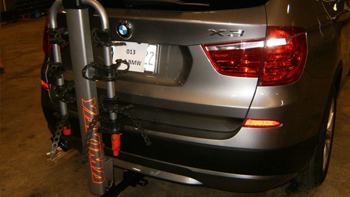 Thule & Kuat Bike Racks
Hitch Mounted Racks
Carry 1 to 5 bikes at the same time
If you are a bike rider, you most likely think like we do. There is nothing better than strapping your bike to your hitch mounted bike rack, climbing in your car and driving to your favorite riding destination. Our personal preference is mountain bike riding. Love it!
Thule, Yakima & Kuat bike racks are a great choice. They come in different types and styles. They offer easy loading and unloading and a variety of models that work great with many different vehicles. Finding the perfect hitch and bike rack combo is important because every vehicle is different. The Hitch House can help you find the right hitch and rack combination to easily and safely transport your bikes.
Hitch House has one of the largest selection of hitches in the city. We likely will have exactly what you need in stock. If for some reason we don't, we can order and have your hitch available for installation usually in one day. When choosing your bike rack there are a number of considerations. First, it's important to determine how many bikes your vehicle can safely carry. The Hitch House can assist with determining this information. Kuat, Yakima & Thule offer bike racks capable of hauling as few as 1 bike or up to 5 bikes. Whatever your style of bikes or however you use them, the Hitch House can hook you up.
Choose From:
Hitch bike racks for 1 to 5 bikes
Platform racks for easier loading and unloading
Tilt-away bike racks for easy access to the trunk