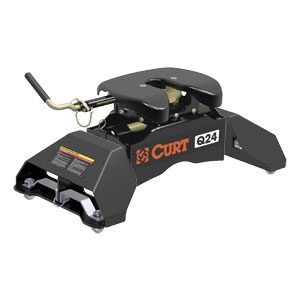 Hitch Types
Installed While You Wait!
The Hitch House of Georgia offers many different hitch types. We have a large selection of hitches in-stock and ready for immediate installation. What makes us unique in Atlanta is the fact that you can actually come in to our Atlanta area showroom and service center. We have professional hitch advisors available to walk you through all of the different hitch types available. You can get expert advice, a free estimate and meet the installation crew who will handle the installation of your hitch. Hitch selection is a huge component of the process. There are lots of different hitch types and styles, each having a unique set of attributes and very specific usage applications. Once you have identified the exact hitch you need, we invite you to sit back in our comfortable customer lounge and relax as we install your hitch while you wait!
Hitch Types We Sell Include
Receiver Hitches | Goosenecks and 5th Wheels | 
We offer a turn-key installation package that includes the purchase of your new trailer hitch, plus full service installation of a brake control system, including any required electrical wiring. Not sure what hitch type you need? Here is more information that may help you decide. Available hitch brands include Curt and Drawtite.

Class 1,2, 3, 4 and 5 Receiver Hitches
We carry all classes of receiver hitches and stock one of the largest inventories of trailer hitches in Atlanta. We have the appropriate hitch types available for virtually any sized car or light duty truck. We install while you wait! It often takes less than an hour for us to install a class 1 – 5 trailer hitch, slightly longer if we are installing a trailer hitch and wiring for lights. We offer a super competitive price for installation of wiring or brake control components. We offer FREE Estimates. Please contact us today so we can set up an appointment time to handle your hitch installation project.
Gooseneck & 5th Wheel Trailer Hitches
Gooseneck and 5th wheel trailer hitches are used to pull extremely heavy loads. They are most often installed in heavy duty and super duty trucks which need to pull camping trailers, horse trailers or construction trailers. In fact, the construction trade and travel trailer communities really love us!
If you have a travel trailer and are looking for the perfect hitch, we invite you to stop by our Atlanta area showroom. We are located not far off Peachtree Boulevard, just inside I-285. Our team can handle all your heavy duty hitch needs, including installation of a brake control system. Hitch House offers a total turn-key package for gooseneck and fifth wheel hitch types. Call us or click here for a price quote. We guarantee exact, to the penny, out-the-door pricing.
Weight Distributing Service No Longer Available
If you are planning on hauling heavy cargo, you may need to install a weight distributing trailer hitch. A weight distributing trailer hitch is designed to stabilize and efficiently distribute the load that you are pulling. We have years of experience installing weight distributing hitches. Hauling a heavy load is nothing to take lightly. For maximum safety for yourself and your passengers, we highly encourage you to come in and meet with one of our professional hitch specialists to help identify the right hitch for the job. We offer free estimates.
Brake Control & Wiring For Lights
One of the most mission critical factors of any good trailer hitch system is to ensure the wiring for your lights and the brake control is functioning properly. Hitch House can professionally install proper wiring to ensure full functionality of your lighting and trailer braking system. We offer quality brake control systems. Top companies such as Curt and DrawTite manufacture these high quality components.
In order to meet state towing requirements, you must ensure that your trailer hitch, wiring and brake control system are functional. Our hitch installation pros can help you select the proper hitch for your needs. We will expertly install all the components you need to safely tow a trailer. There is nothing more important than ensuring your trailer hitch system is appropriate for the job, thus helping keep you and everybody around you safe. Along with brake control systems, we also carry all of the necessary wiring harnesses and required adapters as well. We have four pin flat, five and seven pin adapters in-stock and ready to go.
If you are not sure what hitch type you require, call us at 770-674-2395 and we can help determine what you may need. Or email us with your question and we will respond as quickly as possible.